(This was originally written November 6th, 2012. It has been uploaded and slightly modified here for archival purposes)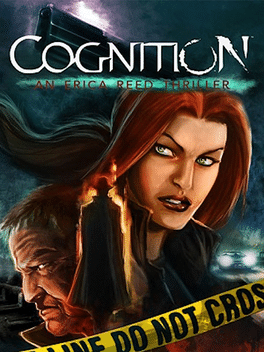 Phoenix Online Studios sheds their fangame roots.
Disclosure: At the time of review, I was provided a review copy of Cognition: An Erica Reed Thriller.
Those who have been following adventure games should be more than familiar with Phoenix Online Studios and their many struggles to get the ambitious King's Quest fangame, The Silver Lining, released. Knowing the power of fans pushed their dream into reality (and out of court), Phoenix Online Studios once again turned to them to get an original title off the ground via a December Kickstarter campaign. The fans spoke with their wallets and Cognition: An Erica Reed Thriller was born.
First impressions are important when launching a brand new IP, and Cognition delivers on all accounts. The cel-shaded art style matched with gritty painted backgrounds offers a unique feel that compliments the atmosphere perfectly. For this, we have to thank Art Director Romano Molenaar, a comic artist whose resume features the likes of Witchblade, Birds of Prey, and The Darkness. Couple that with consultant work by none other than Gabriel Knight creator Jane Jensen and you have a recipe for success.
Story is where Cognition really shows its muscle. Character details are either out there in the open, or can be further explored through Erica's titular ability, which allows her to see into the past, untangle lost memories, or manifest spiritual manifestations of those who have passed on. The game also features branching paths, which even this early in the game results in different outcomes.
Unfortunately, about halfway through the game, some of its small company flaws come back to bite the gameplay. The less expressive character models are occasionally used on some of the more intense moments of the game (moments where on previous occasions they switched to cutscene artwork) resulting in Erica looking downright bored and cold when the dialog portrays concern or compassion.
I had also found myself extremely frustrated when attempting to complete a task in the way not intended by the developer resulted in a lack of feedback. For a spoiler-free example, an irritated character complains about the lack of breakfast, and is standoffish because of this. Shortly after this moment, you find yourself in a place where you receive a box of doughnuts. However, upon returning to the irate NPC with a snack, Erica simply replies "that's not going to work". Most commercial adventure titles would acknowledge this incorrect line by letting the player know so, with a "I better not ruin his diet", "He's diabetic", or at least a "He only likes Boston Cream", but no such luck with Cognition. This, sadly, happens frequently in this first chapter, but at least the correct answers make sense as well (no cat hair mustaches here).
Kickstarter supporters of Cognition: An Erica Reed Thriller will be pleased with what their contributions have brought, but at 30 dollars for a Season Pass, latecomers may want to try the demo first to see if they can live with the growing pains.